Time for a change? I doubt it.
By
Afternoon all.
I hope we are all looking forward to the weekend's football festivities.
I am aware I have been a bit quiet so far in March in comparison to the last few months, but I hope you will agree that I am back with a cracker today.
I have two bets for you – one to pay for your weekend's beer and one to fund some new swimming shorts for the summer season come May.
The managerial merry-go-round
First up, the long term position.
William Hill and Victor Chandler are both offering interesting twists on "The next Premier League Manager to Leave" market at the moment, and I think they are potentially a nice little earner.
Have a look for yourself here before you carry on reading this piece and decide what you would do with your Granny's weekly pension…
I think the "No manager to leave" option is a cracking price and definitely +EV in my eyes.
There are 13 manager who will not leave their posts this season unless they die.  Which obviously we all hope is not the case!
The seven other managers which could leave their posts are Mick McCarthy,  David Moyes, Carlo Ancelotti, Roberto Mancini, Avram Grant, Roberto Martinez and Steve Kean.
I have been on the dog to good old Victor, and this market will be settled as the full time whistle goes on 22nd May 2011.
So, although in the medium term I feel that both Carlo A and Roberto M may struggle to keep their jobs, I think both will be left to see out this campaign.  Neither have assistants worthy of being put in charge for a late five game stint hoping for a "bounce" either.
Our third Italian musketeer, Roberto Martinez has all but been announced as safe by Wigan chairman Dave Whelan:
http://www.skysports.com/story/0,19528,11661_6803760,00.html
This can be an absolute kiss of death of course, but I trust Mr Whelan – well, where football is concerned anyway!
So, this leaves us with only three candidates to go over the seasons final 10 games – Mick McCarthy, Avram Grant and Steve Kean.
Personally I think MM is safe as house.  And well built Yorkshire houses at that.  In true Mick style, I won't beat about the bush on why.
So my conclusion is there are only two managers materially at risk of leaving their posts over the next two months.
Avram Grant has a few things in his favour and I think he will survive.  He made both Cup semi-finals (generating good amounts of cash along the way for his owners…) and the Hammers' league form has turned around somewhat of late.
Avram's assistant manager was only appointed after the fiasco with Zeljko Petrovic in December, so is unlikely to be thrust into the role.
So that leaves Steve Kean as the only man materially at risk in my eyes – and he is a 5/2 (3.5) shot.
Anyway, my subjective opinions aside, there is a pretty compelling statistical basis to support this bet as well.
The table below splits out the exit dates of the Premier League's 219 departed managerial posts:
Premier League manager sackings by month
| | | |
| --- | --- | --- |
| Exit Month | Number | % |
| Jan | 18 | 8% |
| Feb | 14 | 6% |
| Mar | 14 | 6% |
| Apr | 10 | 5% |
| May | 39 | 18% |
| Jun | 19 | 9% |
| Jul | 6 | 3% |
| Aug | 10 | 5% |
| Sep | 20 | 9% |
| Oct | 15 | 7% |
| Nov | 29 | 13% |
| Dec | 25 | 11% |
| Total | 219 | 100% |
Now at first glance, all these numbers may look the same to you.
But I think there is a pretty strong trend here.  Have a look at the same numbers, but in visual form and reordered to reflected the chronological months of the football season – running from August to July:
Premier League manager sackings by month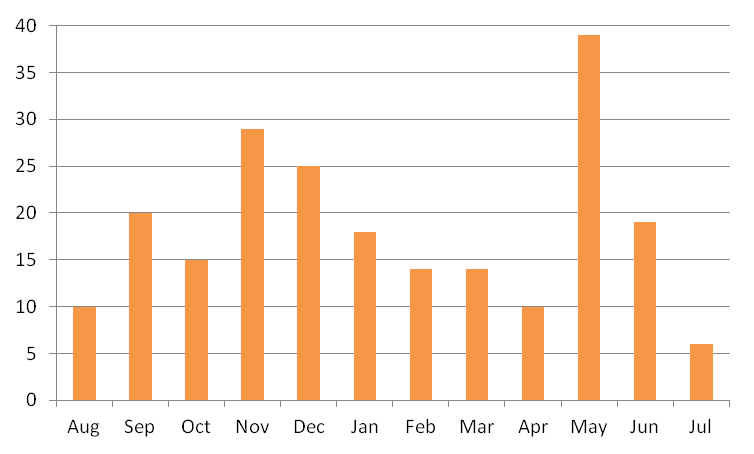 Who can spot the downward trend then?  You don't really need to be Clueso I guess.
Oh and for those that haven't beeen paying attention, it's 18th March.
2011.
Finally, to finish off, here are the rules from Victor on this one:
"1.3. Next Manager to leave
If no Manager has left his position by the end of the last scheduled League Fixture (excluding any play-off matches) then the 'No Manager to Leave' option will be deemed the market winner.
If a club makes an announcement prior to the end of the season, that the manager will leave his post at the end of the season but remains in charge until the end of the last match of the season, then he will be deemed NOT to have left his position. A Manager who is placed on Gardening Leave will be deemed to have lost his position. A Manager who is given another position at the club other than Permanent Manager will be deemed to have lost his original position.
For markets involving football managers and players e.g. Next Permanent Manager , Next Manager to Leave his Post , Managers to be in charge for a specific period etc , all bets taken on a market on the day the *general news announcement regarding the appointment/dismissal etc is made will be Void, Win or Lose.
* For the purposes of of these bets, General News Announcement is any news feed from the following sources: Sky News, Sky Sports, BBC, ITV, PA, Reuters."
So what's the deal?
I think this is a great opportunity for a split stakes position.
I suggest taking the 6/4 on offer now with a small cover position on Steve Kean as follows:
| | | | | |
| --- | --- | --- | --- | --- |
| Outcome | Odds | Stake | Profit | Net profit |
| No manager to leave | 2.5 | 5 | 7.5 | 6 |
| Steve Kean to go | 3 | 1.5 | 3 | -2 |
If you fancied pushing it a little bit, you could even wait until after today's games to place the cover bet – if, that is, you are confident in the Rovers getting three points at home to Blackpool today.
I got 3.5 on SK last night, but that price isn't available as this goes to press.
On to today's action
It's not often that I find the outstanding price on the coupon to be a top flight game, but today I think Everton to beat Fulham at 2.1 (47%) are the best value bet on the coupon.
The Toffees are 5/5/2/+4 at home to the non top 4 sides this season, but I think these numbers are suppressed by a couple of freak results – no more so that the 0-0 draw with Wigan in which they had 16 attempts on goal but failed to score.
Over the previous three seasons Moyes' men have won 21 of their 30 home games against teams finishing in the bottom half (70%).  Even against the second quartile teams they have won 6 of 15 games (40%).
Although much improved, I still feel that Fulham are a more appropriate comparable to the former than the latter.
And if you read this article earlier this year, we all know about the disparity between Fulham's home and away from.
2.1 (47%) is too big – I would have Everton as a circa 1.85 shot for this game (54%).
Home side are worth a tinkle.
BOTW: 2.5pts on Everton to beat Fulham @ 2.1
5pts on No Premier League manager to leave this season
1.5pts on Steve Kean to be the next Premier League manager to leave this season
.
p.s – The deep thinkers amongst you may feel that the Everton bet is inconsistent with the previous piece on how Fulham to draw away from often represent great value.  I have decided to keep that explanation for a subsequent theory piece.
.