Afternoon all.
Apologies for being relatively quiet towards the end of this week, it has been yet another busy one at work.
I am going to try really hard to find some extra time for BOTW next week as I have a few cracking articles in draft which I as have yet failed to finish.
Today's coupon
Today's coupon is a crack from a footballing perspective – personal highlights for me are the huge West Ham/Birmingham game on Sunday in the Premier League and Crewe's trip to third place Rotherham down in League 2.
The results in those two fixtures could go a long way to shaping the rest of all of the four team's seasons.
However, from a betting perspective I am less enamoured with this round of fixtures.  There are a number of tightly priced home sides – which is never a good thing – and everyone should by now have realised how rare it is for me to choose to back away wins.
If I was forced to take an away win today it would probably be for Brighton to beat Bristol Rovers down in League One at 10/11.
Gus Poyet's men still look deserving of the League One title to me, despite coming under some pressure from Bournemouth and having Southampton lingering in the background waiting to pounce on any slip ups they make.
As points out in the comments here at BOTW, the Cherries are another side that look a good price today – still available at 1.85 to beat a mediocre Leyton Orient side down at Dean Court.
This certainly looks a fantastic price for a side with a 11/2/1/+23 home record against an O's side that do not travel well that have lost 46% of their away games this season against the league as a whole.
However, given that they are settling into a new regime under Lee Bradbury after Eddie Howe's farcical departure to Burnley, I am going to give this one a swerve at the last possible second.
The former Manchester City striker has started his management career brilliantly, with the Cherries chalking up 10 points from a possible 12 – including a fantastic 1-0 victory over leaders Brighton a fortnight ago.
Management changes can be interpreted in many ways – the oft quoted "honeymoon period" or the disastrous appoints destined to fail.
The only thing that is certain about changing management teams is that it brings uncertainty.  And on this occasion I have no steer on how to interpret the change so I am steering clear.
Today's selection
For regular readers, today's selection is going to come straight out of left field.
I cannot remember the last time I tipped a draw on BOTW – in fact, to the best of my knowledge I don't think I ever have!
But there is a first time for everything and as ever there is a exception to every (generalised) rule.
Some background
Predicting a draw in an English League football match is much more difficult than it seems.  And to predict +EV selections given the bookies pricing model is even more difficult.
Draws in football matches are generally priced around 3.3 to 3.6 for relatively even fixtures – an implied chance of 28 – 30%.  This obviously increases as the fixture becomes more and more one sided.
So for an ordinary draw selection to be a "+EV" bet you need to be confident it has a 30% chance of better.
Not too difficult you would think?  Well here are a few statistics for you
If you had put £5 on every fixture being a draw since the start of the 2005/06 season, as of today you would have lost around £250.  Now to me that doesn't sound horrendous, but when you recognise that is a loss of around 50 unit stakes after 2144 bets is doesn't look so good.
Each successful £5 bet would see you win £12 -15 on an ordinary fixture and up to £50 from a real shock result.
At that rate think how long it would take you to recoup that £250 loss.  The answer is you never will!
And that is hardly why we play this game is it?!
For a bit more background on the number of draws you would expect check out this piece from my EPL preview.
The opportunity
This season has seen a huge spike in the number of draws in the Premier League, and we are on pace for an almost record number of "two pointers".
There are many possible theories as to why this may or may not have come about.
The most likely reason, is almost not a reason at all – that the higher rate is simple a matter of variance within a small sample selection and nothing material has changed whatsoever.  One possible alternative theory would be the increased capabilities of the three promoted sides in comparison to those relegated in 2009/10.  However, I don't plan to get into that debate today.
Instead, lets have a look at some facts.  I prefer facts to debate.
29 teams have played in the Premier League since 2005; and
Of these, backing each and every one of a team's games to be a draw would have resulted in a net loss for 23 of them.
Within the six profitable teams, two will be ignored due to having only spent limited time in the League – Hull City and Watford.
Any guesses to who the four remaining teams are?
Have a look at the graph below which includes some not-so-subtle hints:
EPL draws – Cumulative return from 5% stakes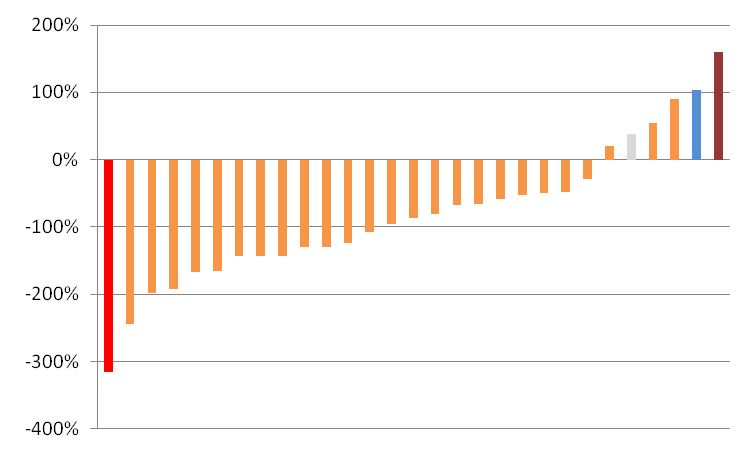 I would expect Birmingham City to pop into a few heads, given that they have drawn quite so many games against the bigger sides at St Andrew's in recent years.
And you would be correct.  The Blues are the second most profitable drawing side of all.  Flat £5 stakes on each and every one of their Premier League games would see you over £100 in the black.
Everton are also a profitable drawing side and would have consistently returned you some good cash.
The other two profitable sides are highlighted on the chart – they happen to be Aston Villa and Fulham.  For those short on time, you can probably guess where this piece is going now!
Also highlighted on the graph is the return of backing Man United to draw each and every game they have player.  That is ugly.  Trés ugly.
I find it quite interesting that the sides consistently bucking the value trend around draws are Everton, Aston Villa, Birmingham and Fulham.
Both Aston Villa and Everton are the leagues quintessential "second quartile" sides and Fulham have been very much a "third quartile" or mid-table side for a number of years, with the odd strong/poor season thrown in.
I cannot help but feel there is something important going on here that could be exploited in the long term.  However, that is not for today.
Another vital consideration is that there are so many bi-polar teams in the Premier League – and Fulham are probably the most Katonaesque of them all.
Let's have a quick look at the same corresponding charts, but split by home and away fixtures specifically:
EPL draws – Cumulative return from 5% stakes – Home only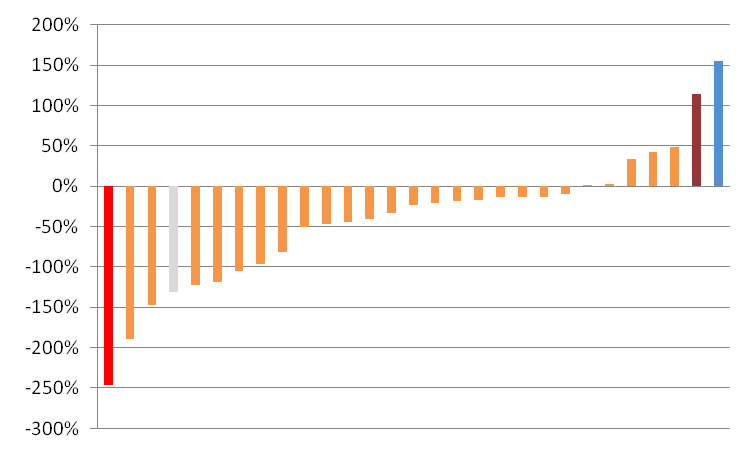 EPL draws – Cumulative return from 5% stakes – Away only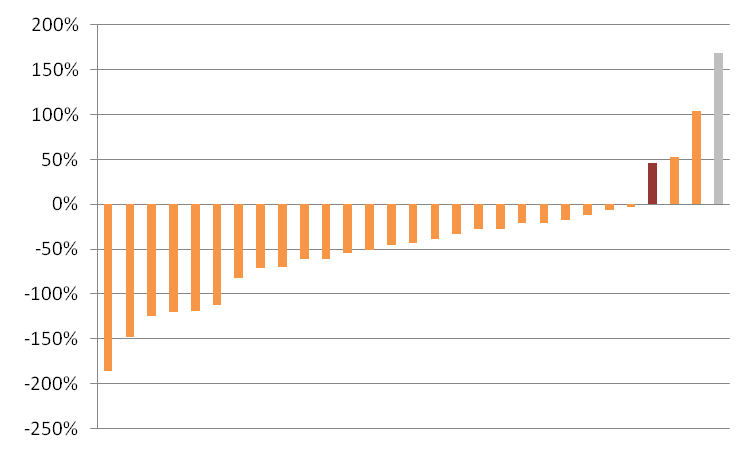 I think the graphs probably speak for themselves.
Aston Villa are the only side in the league that backing them to draw both home and away has yielded a profit in the medium term.
If you fancy reading a bit more background about my view on the Villa and there form this season, I have put together two theory pieces which were amongst my favourites ever at BOTW.
One here on their over exaggerated demise and unfortunate fixture schedule and another here on when they offer goof value from a betting perspective.  Both highly recommended, if I may say so myself!
Anyway, back to Fulham.  They are, quite simply, an away drawing machine – recording returns way above and beyond even the Villans.
Check out the table and chart below containing the Cottagers away draw statistics since and the corresponding betting returns since they returned to the Premier League in 2001.  Quite staggering draw rates and profit returns:
Fulham FC – EPL away draw rates 2001 – 2011
| | | | | | |
| --- | --- | --- | --- | --- | --- |
| Season | Played | Draws | % | v Bottom 16 | % |
| 2001/02 | 19 | 7 | 37% | 5 | 33% |
| 2002/03 | 19 | 6 | 32% | 5 | 33% |
| 2003/04 | 19 | 6 | 32% | 4 | 27% |
| 2004/05 | 19 | 4 | 21% | 4 | 27% |
| 2005/06 | 19 | 4 | 21% | 4 | 27% |
| 2006/07 | 19 | 8 | 42% | 7 | 47% |
| 2007/08 | 19 | 7 | 37% | 6 | 40% |
| 2008/09 | 19 | 8 | 42% | 6 | 40% |
| 2009/10 | 19 | 7 | 37% | 7 | 47% |
| 2010/11 | 12 | 6 | 50% | 6 | 40% |
.
Fulham FC – Cumulative return from 5% back stakes on away draws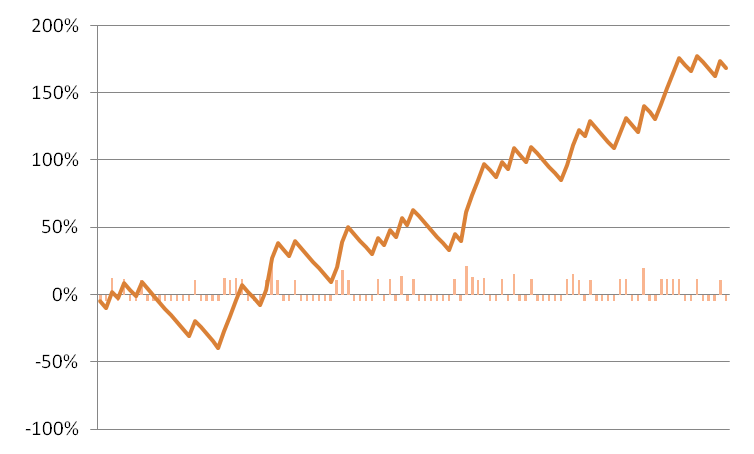 I think I've drawn you enough pictures now.  You know the drill.
Are you value betting?
I must confess, this piece of analysis spawn from carrying out my weekly research with the intention of backing Aston Villa to beat Fulham today.
Now this may confuse some people, but the fact of the matter is I still think they will.
A home win is the most likely outcome today.
However, it is crucial to get out of this "absolute" mindset if you want to become a profitable sports bettor.
The game is generally priced in the market at 2.0 / 3.5 / 3.0.
This equates to an implied chance line of 49% / 29% / 33% – good for a 111% book.
If you are new to this sort of sports betting there are a number of "pricing" articles available form the "Theory" tab on the menu above.
Now, as I mentioned, I agree that the most likely outcome is a Villa win.  But I cannot justify a 50% + win rate – and therefore betting on the Villa today would be a "-EV" selection.
Equally, I cannot make a case for Fulham winning this game more than 33% of the time – in fact no where close.  That is a horrendous price given their away record in recent seasons and their current form.  This price has been deflated by them chalking up a few good wins at home – where they are a markedly different side.
I would probably run the true, margin adjusted, line on this book to be in the region of 46% /34% / 20%, resulting in a healthy positive margin on the draw price.
I suggest you take it for a couple of points.
BOTW: 2pts on Aston Villa v Fulham to be a draw @ 5/2
.
Sharing the spoils

,