Archive for June, 2010
Sadly not the update any of you guys were probably looking for, but instead an update on the MLB Home Run Champion market.
Surprise surprise, the number of home runs around the leagues are down again this year (if you care).
Miguel Cabrera currently tops the pile with 19 and is on pace to knock out around 44 home runs.
My selection in this market, Ryan Howard has, by his power standards, been slumping all season. However, in the last 6 games he has smashed 4 long balls and appears to be coming around nicely just in the nick of time.
I fully expect by the time 100 games have been played for the top of the leaderboard to be the same old faces again – with one notable exception.  With only 8 home runs to his name so far, Alex Rodriguez has has confirmed what we all thought – that Richard Ashcroft was wrong all those years ago.
Here is a filtered list of the current standings showing the guys who I feel will be able to hack the full 162 game pace:
| | | | | | | | |
| --- | --- | --- | --- | --- | --- | --- | --- |
| Rank | Player | G | AB | HR | AVE | OBP | SLG |
| 1. | M Cabrera | 65 | 242 | 19 | 0.329 | 0.412 | 0.645 |
| 5. | A Dunn | 68 | 240 | 16 | 0.288 | 0.379 | 0.588 |
| 5. | J Hamilton | 66 | 260 | 16 | 0.327 | 0.374 | 0.596 |
| 5. | M Reynolds | 65 | 227 | 16 | 0.211 | 0.325 | 0.463 |
| 9. | A Gonzalez | 68 | 245 | 15 | 0.302 | 0.403 | 0.535 |
| 9. | A Pujols | 67 | 242 | 15 | 0.310 | 0.427 | 0.558 |
| 14. | R Howard | 67 | 259 | 14 | 0.293 | 0.350 | 0.506 |
| 22. | P Fielder | 68 | 246 | 13 | 0.260 | 0.397 | 0.455 |
As you can see, Ryan remains more than in touch with the pack after his worst ever start to a season, which has included his longest stretch of at bats without a home run (65) back in April.
My reasons for picking Howard over the mighty Albert Pujols and Prince Fielder remain the same, although I still expect both to be in the top 6 come seasons end.
I fully expect Howard to pass Josh Hamilton and Adrian Gonzalez sooner rather than later, and Mark Reynolds' "swing for the fences" approach  (reference his lowly .211 batting average) will supress his numbers enough in the long term.
Given a two and five run head start respectively, the main threats to Howard picking up another home run crown at seasons end are Adam Dunn and Miguel Cabrera.
For me, Adam Dunn is a very underrated player.  I won't get into the dull (for you) nuances of baseball, however he is a bit of a butcher in the field (think Titus Bramble) and looks a little ungainly whilst carry out his craft.
In fact, the best analogy I can give for you is that Adam Dunn is a 6ft 7″, slightly fat, white version of Andrew Cole.  Everyone gives him a bit of a slating and fans and managers alike sit around highlighting his weaknesses and problems and ignore the underlying results.
Andrew Cole was a consistent goalscoring machine.  He ran a bit funny and missed a few chances. Bothered.  Goals per game over a career don't lie.
Adam Dunn is a consistent home run hitting machine.  He doesn't like to run much and strikes out a lot. Bothered.  His last five seasons? 40/40/40/40/38 home runs.  Unbelievable consistency.
And surprise, surprise.  He is currently on pace to hit 38 home runs.  And he will probably do exactly that.
Moving on.  The bookies favourite (if they had an in season market) for the crown would now be Miguel Cabrera.  "Miggy" as he is know in the game, is a fantastic young but experienced player.  Think Wayne Rooney but not quite as good – same weight problems, major titles and accolades at a very young age, but not quite as good as Rooney.  Miggy is more like 2010 World Cup Rooney.
As displayed in the chart below, he is currently carrying an unsustainable .645 slugging percentage (a baseball indicator of batting power) which I expect will regress to the .550-580 level by season end.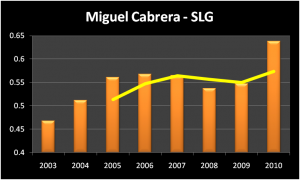 He will probably struggle to hit the 44 home runs he is on pace for at current, but would be a good bet for somewhere in the region of 40 in total come October.
So in conclusion, we are likely to have an exciting sprint for the line come September and I am still quietly confident that Howard will come out on top.  So not only may we make a healthy profit, we will get some excitement and entertainment for our troubles too.  Can't say fairer than that.
That said, none of this chatter was really necessary, as I could just have sent you in the direction of the awesome in season projections courtesy of Dan Szymborski's Baseball Think Factory and Fangraphs.
They currently have Howard finishing up on a round 40, with Miggy pipping him at the post via a final day blast to centre field to finish on 41…
Let's watch this space.  Or I will do anyway!
Adios Amigos.